Mockmill Lino 100 - Stone Grain Mill
Regular price

Sale price

$610.00
Mill your own flour at home for the best nutrition and full flavor.
Mockmill Lino 100 brings you traditional stone milling right into your kitchen. That way you enjoy the freshest possible flour with full nutrition and flavor.
Vegan, low-carb, gluten-free, or simply fresh and healthy.
Milling your own flours retains all the nutrition in the grain in addition to giving you the full flavor available in the grain. 
This mill is suitable for milling all dry grains, legumes, and spices.
You can adjust the texture of the milled flour from very coarse to very fine.
by Wolfgang Mock
Main features
Easy to operate
Simple to clean
Step-less adjustment of the settings from very fine to coarse
Throughput of approximately 100g of soft wheat / minute
Delivered gluten-free
Sturdy industrial motor
Milling mechanism consisting of corundum-ceramic milling stones
Innovative casing made from wood and Arboblend®
Made in Germany
12-year warranty
 Technical specifications:
| | |
| --- | --- |
| Filling Capacity (Wheat): | 2.8 lbs / 1300g |
| Grinding Stone material: | Corund-Ceramic |
| Coarseness Setting: | very fine to coarse |
| Milling Speed (Wheat): | 3.5 Oz or 100 g / min (very fine flour) |
| Housing: | Wood and ARBOBLEND® made from renewable materials |
| Dimensions: | 15″ x 9.5″ x 8″  |
| Weight: | 17.2 lbs |
| Rotation (on 50 Hz mains power): | ca. 1300 turns / Min. |
| Power: | 360W |
| Voltage: | 110 V |
| Length of cable: | 54 " |
| What is in the package | Mockmill with Cone-Lid, Instruction Manual |
| Warranty: | 12 Years for home use, 2 Years for commercial use |
Share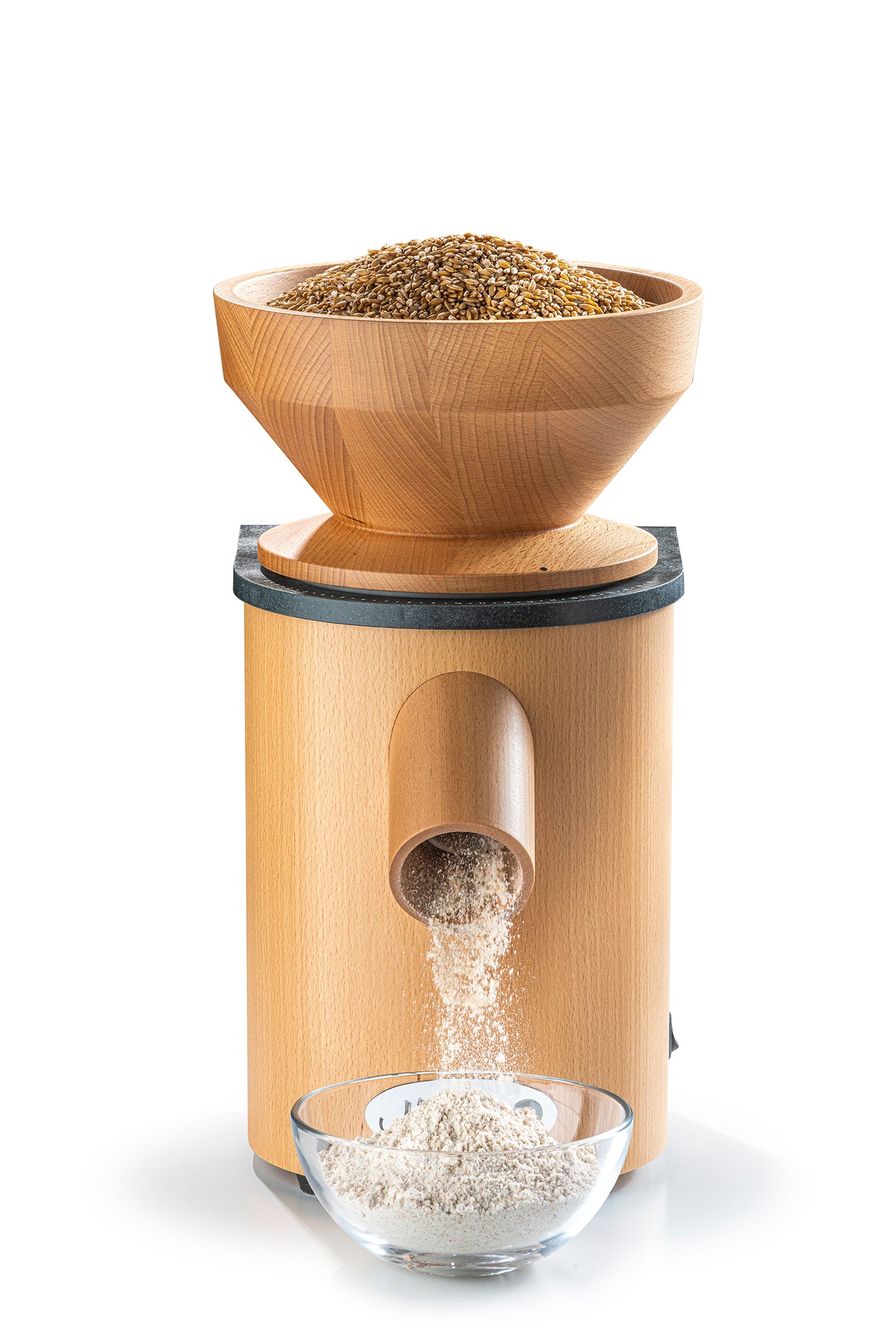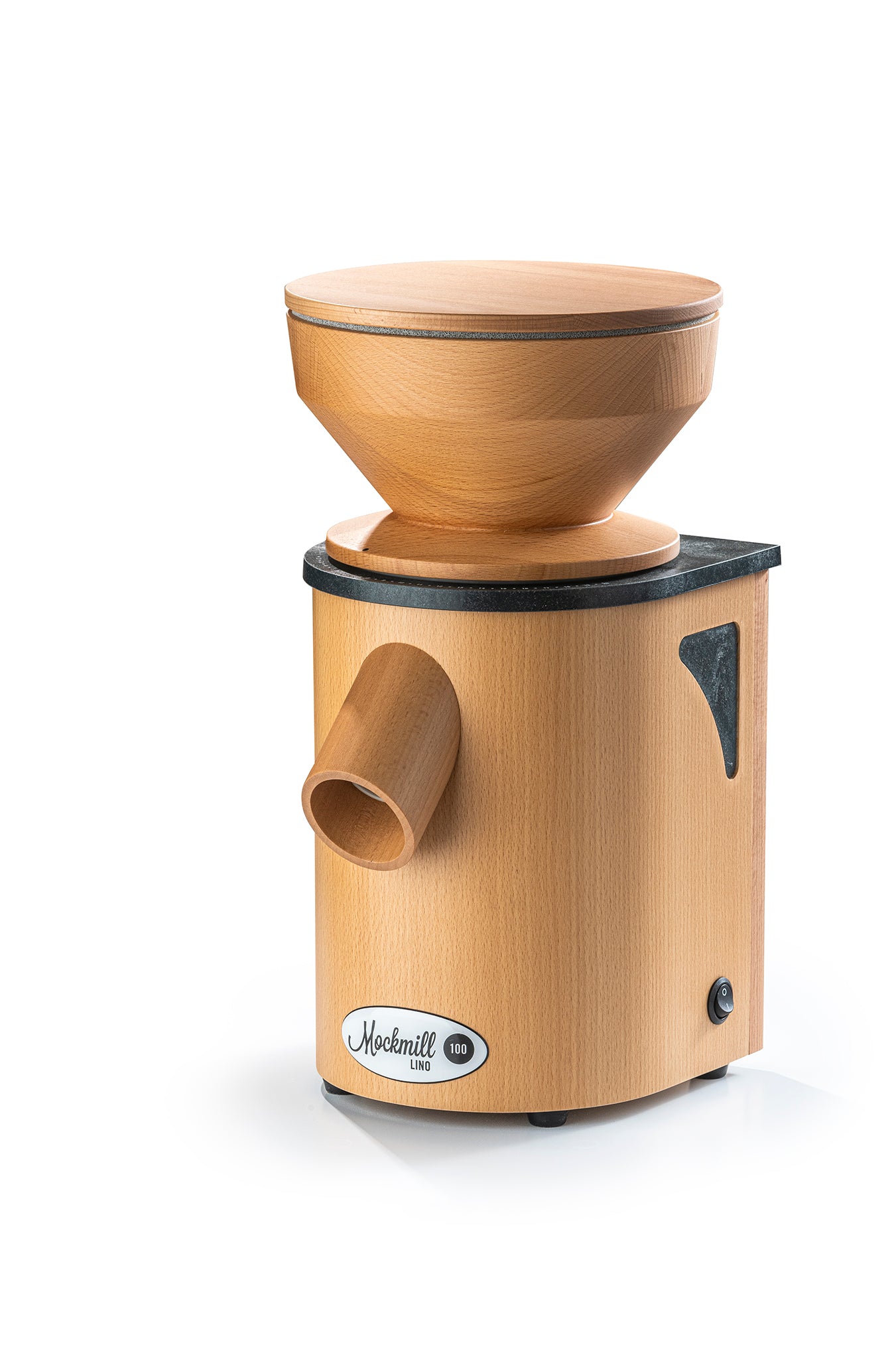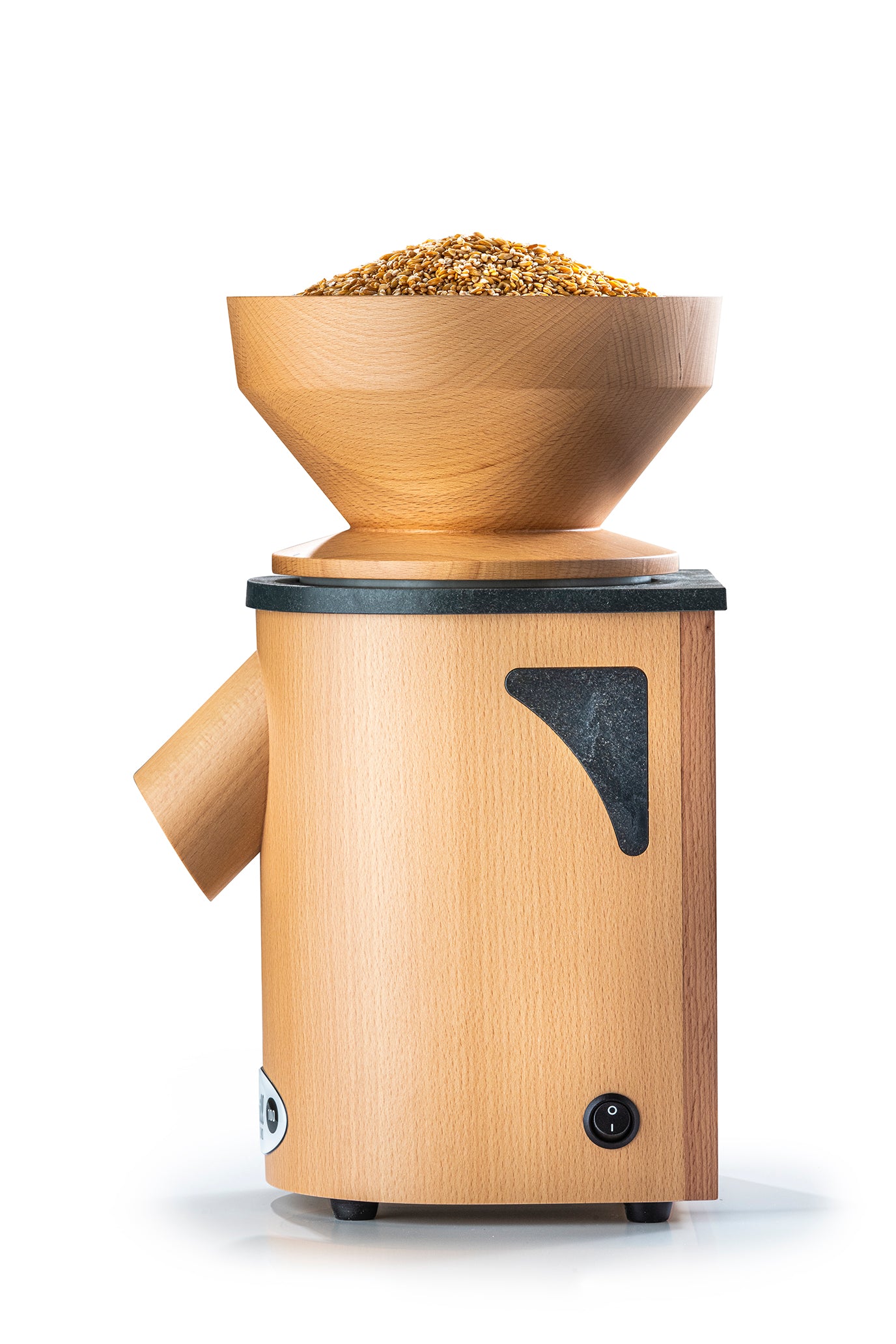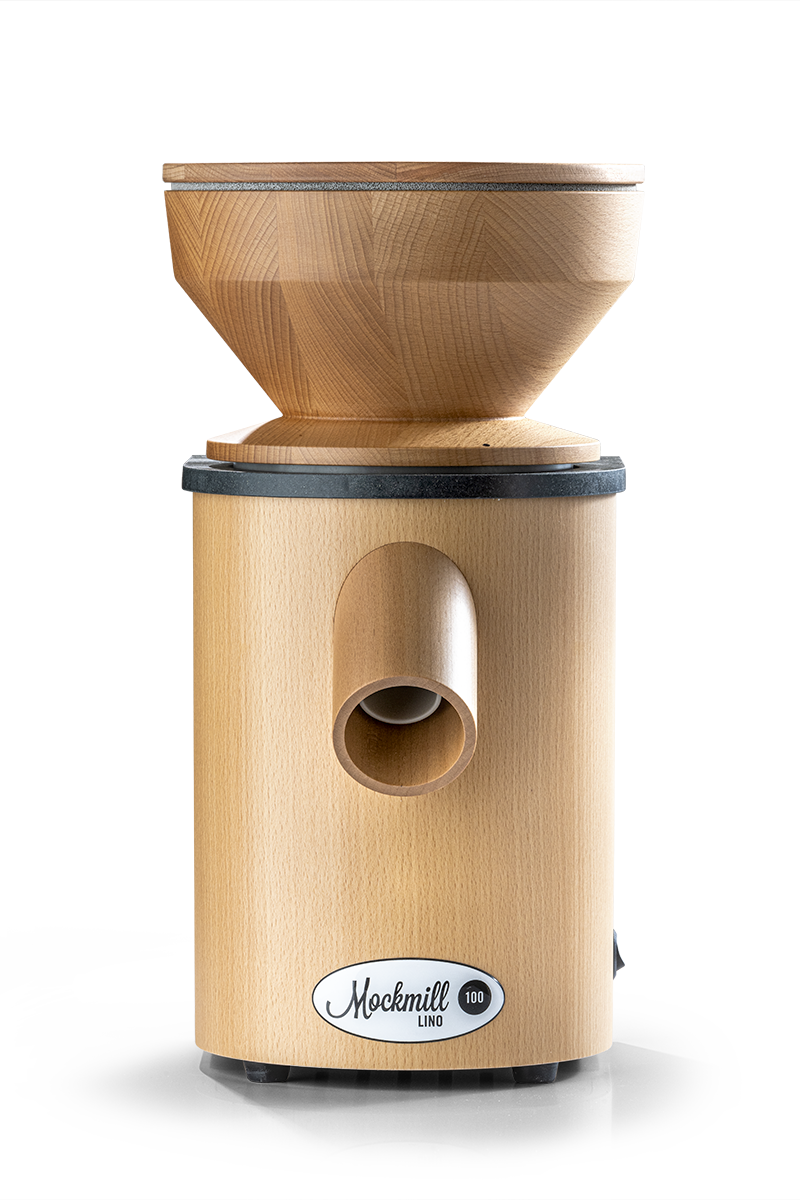 Frequently Asked Questions
Where is LoafNest made?

LoafNest Silicone Liner is made in France by Demarle, who are known for their SILPAT baking mats. LoafNest Cast Iron Casserole is made in China by a reputed manufacturer who also manufactures for reputed brands in USA and Europe.
How big is LoafNest?

LoafNest's dimensions are about 30 cm x 15.5 cm x 14.5 cm ( 12 inch x 6 inch x 5.75 inch) including the handles. The inner size of the LoafNest is 23cm (~9 inch) long, 14.5cm (~6 inch) wide and 13.5cm (~5.5 inch) tall.
Can I use LoafNest to make my own recipes?

Yes! You get a starting recipe with LoafNest (no-kneading, no-shaping) that you can easily tune to fit your own schedule as well as to include a wide range of natural ingredients. You can also use LoafNest to bake your own favorite recipes, including sourdough. As long as you use around 500g of flour, any recipe would work well with LoafNest.
How safe is LoafNest?

LoafNest conforms to all applicable US and European food contact safety regulations. LoafNest cast iron casserole is coated with glass enamel and is free from Lead & Cadmium. LoafNest liner is made in France and is free from BPA & POFA.
How durable is LoafNest liner?

LoafNest liner is designed to last at least for 1000 uses and with proper care will last 2000-3000 uses. Liner and casserole are safe for oven use up to 260 C / 500 F.
Better Bread. Better Life! But, don't only take it from us...
Artisan Bread with Crunchy Crust and Soft Center
Make artisan bread everyday with complex rich flavour